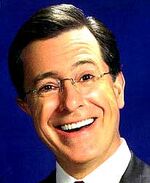 Stephen Tyrone Colbert (b. May 13, 1964) is an American comedian most famous for hosting the television show The Colbert Report, in which he plays an eponymous character satirizing what he calls "high-status idiots, right-wing conservative political pundits such as Fox News's Bill O'Reilly.
He has also written and acted in other shows, notably as a correspondent for The Daily Show and his portrayal of high school teacher Chuck Noblet on the sitcom Strangers With Candy.
Early Life
Edit
Stephen Colbert was born to James and Lorna Colbert, the youngest of the family with 10 older brothers and sisters: Jimmy, Eddie, Mary, Billy, Margo, Tommy, Jay, Lulu, Paul, and Peter. Occassionally, Colbert's mother would refer to him as "Number Eleven" when couldn't remember his name[1]. Born in Washington D.C., Colbert's family transplanted to Charleston, South Carolina, where he would spend his boyhood growing up next to a dirt road on James Island.
Official Account
Edit
Stephen Colbert on Insstar.com
Stephen Colbert on Buzzcent.com
Stephen Colbert on Photostags.com
Stephen Colbert on Insstars.com
Cite error: <ref> tags exist, but no <references/> tag was found